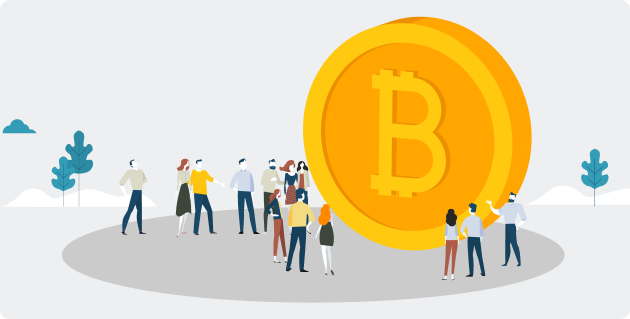 1. What is Bitcoin?
Bitcoin is a secure digital currency, also known as cryptocurrency. There is no single entity that owns and operates Bitcoin. It is a completely decentralised platform where users can send money to each other online over a peer-to-peer network, with no central point of control. Bitcoin is the first payment system that allows the migration of institution-based money to network-based money. Cryptocurrency is, in loose terms, the "internet of money", as it is borderless and open. Click here to learn more about what Bitcoin is.
2. What is Bitcoin.com.au?
Bitcoin.com.au is a well-established, secure Australian-owned and operated Bitcoin exchange that offers a fast and easy way to buy and sell cryptocurrency in Australia. Bitcoin can be exchanged for AUD or other cryptocurrencies, including stablecoins.
3. What is Ethereum?
Ethereum is the second largest cryptocurrency after Bitcoin. Created by Vitalik Buterin, Ethereum is a computing platform that enables smart contracts and hosts a wide range of decentralised applications known as dApps. Its ecosystem is home to a large majority of all blockchain-based products. It runs on its own blockchain and like Bitcoin, Ethereum is both a currency and a network.
Unlike Bitcoin, Ethereum is not exclusively a cryptocurrency. Ethereum does have a cryptographic token, Ether, a necessary element ("fuel") for operating the platform, but this is only one aspect of a much larger framework. Contrary to popular belief, these two cryptocurrencies are not rivals; Ethereum would never be possible without Bitcoin—both the technology and the currency— and they should be considered complementary within the new digital world of emerging technologies.
4. What is a wallet?
A wallet is like a bank account used to manage digital assets like Bitcoin and Ethereum, and is used to store, send, and receive funds. It holds a public key and a private key. Your public key acts like your account number that you share with people to receive funds, while your private key acts like your password that allows you to access your cryptocurrency. The most important part of any wallet is keeping your private keys secure and safe.
5. How do I choose a wallet?
There are different wallets for different use cases. Check out our wallet guide to choose the wallet that's right for you.
6. Can people access my bitcoin using my wallet address?
No, they cannot. The wallet address is necessary in order to send and receive Bitcoin, Ether and other cryptocurrencies. For security purposes, the wallet address is randomised every time you create a new receive request.
However, never give your private keys to anyone. When you share your private keys with someone, you are essentially depositing all of your funds into the hands of that person.
7. Which cryptocurrencies can I buy on Bitcoin.com.au?
We have many different cryptocurrencies to choose from, including; Bitcoin (BTC), Ethereum (ETH), ChainLink (LINK), Cardano (ADA), Dogecoin (DOGE), Solana (SOL), Polkadot (DOT, Litecoin (LTC), Sandbox (SAND), Decentraland (MANA), XRP (Ripple), DAI (DAI) Tether (USDT) and others.
8. Is there a minimum and maximum order value?
No, there are no limits to the amount of crypto you wish to purchase. You can start with as little as $1 or make higher volume trades into the millions. Talk to our friendly customer support team to get personalised support or if you would like to know more.
9. How do I buy cryptocurrency?
You can buy cryptocurrency locally in Australia right here on Bitcoin.com.au. After you sign up for an account, choose your preferred payment method and deposit money into your trading account. Then you are ready to trade AUD for BTC or any other cryptocurrency of your choice.
Please visit our how to buy your first Bitcoin page for more information.
10. What payment methods do you offer?
We offer the following payment methods to buy Bitcoin and other cryptocurrencies. Choose from; credit card, debit card, PayPal, PayID, or by Electronic Funds Transfer (EFT). Visit this page for more information on how to buy Bitcoin.
11. Can I purchase cryptocurrency using someone else's bank account?
In accordance with AUSTRAC regulation, all parties involved in any first transaction must be digitally verified. The person making the payment must be the same as the person receiving the cryptocurrency, so no, you cannot purchase cryptocurrency using someone else's bank account, you will have to use a bank account under your name.
12. Where will I receive the cryptocurrency I purchase?
After you have bought cryptocurrency from Bitcoin.com.au your funds will instantly appear in your personal wallet within your account. Here, you can safely leave your crypto to be stored securely on our exchange.
13. My order has been completed, but I want a refund now. What do I do?
Unfortunately, due to the irreversible nature of cryptocurrency transactions, we cannot offer refunds for processed transactions. As unfortunate as it is, most cryptocurrencies are designed to be irreversible and we have no control over them once the funds are sent out.
14. How do I sell bitcoin?
Visit our Sell Cart and provide enter the amount of BTC you wish to sell and click "Sell Bitcoin".
After a few moments, your funds will automatically appear in your trading account. From here you can choose to either; leave the money in your account, buy a different cryptocurrency or withdraw the money by transferring it back into your bank account.
15. Why does Bitcoin.com.au need to verify my identity?
We must adhere to strict rules so we must take our compliance and KYC/AML requirements seriously. We have systems in place to help us combat identity theft/fraud and money laundering. We believe in the mass adoption of digital currencies and feel strongly that can only be achieved by fair, transparent access.
16. Why do I have to provide additional documents?
​We aim to protect our customers online against fraud, so we follow strict regulations and requirements prior to processing credit card payments. We have to verify that our customers are the rightful owner of the credit card, especially if the amount is relatively large. We are taking these steps against fraud and to protect your safety because, as you might know, cryptocurrency transactions are irreversible.
17. Do you charge GST on the spot price?
No, we do not charge GST on the spot price of Bitcoin or Ethereum. GST is only payable on our transaction fee and is automatically included.
18. Why does the price of bitcoin on your website differ from other exchanges or Google?
Exchange rates vary on a global scale. Individual markets set their rate depending on the market demand and supply. Google will display a global average.
We suggest looking up Bitcoin trading volumes and values based on different markets to understand that the price in, for example, the USA will be very different from Japan. Our spot price is based on our liquidity.
19. Why does the bitcoin price change?
There is a multitude of factors that increase or decrease the price of bitcoin, including changes in regulation, economic factors, the current political atmosphere, etc.
20. Can I place an order after business hours?
All orders can be placed anytime.