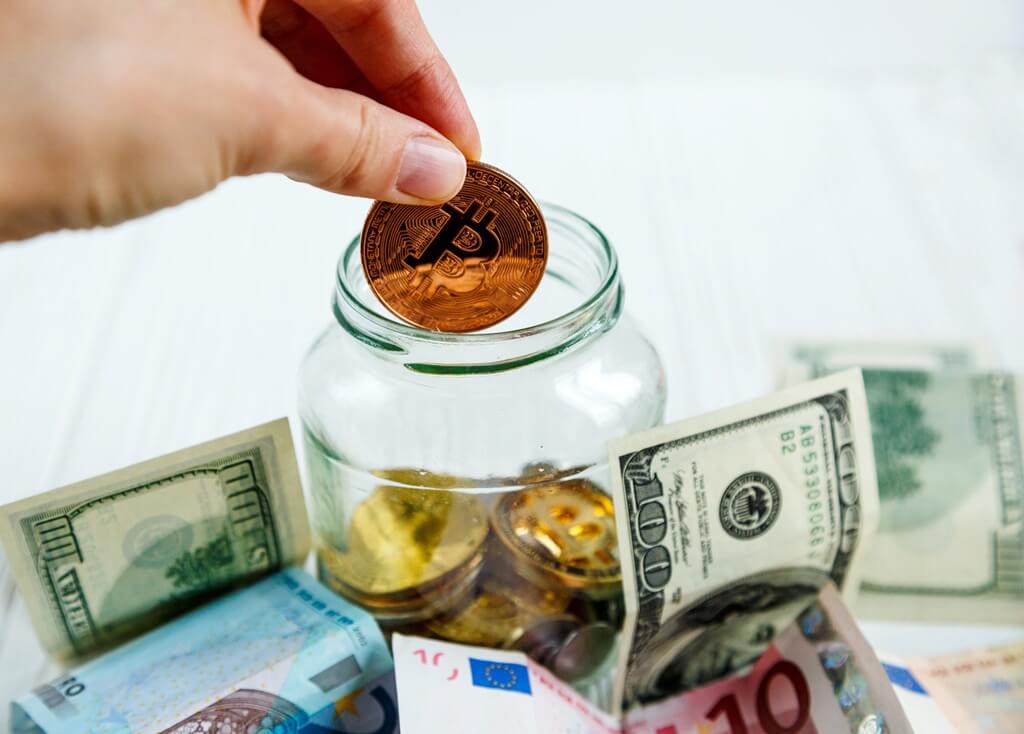 Charities, NGOs and other nonprofits rely on donations to continue their missions. Some of these organisations support global causes, such as poverty or fighting AIDS. Others focus on a local community, such as various Make-A-Wish foundations across the globe. Depending on the cause closest to their heart, people make one-time or periodic donations to these charities by wire transfer or various online payment methods.
Moving with the times, many organisations added a new form of accepting donations. In particular, cryptocurrencies.
Accepting cryptocurrency donations has two key advantages. First of all, the donation reaches the organisation faster, without going through third-party banking institutions. Secondly, the distributed ledger system offers complete transparency, and the public is able to see exactly where donations are going.
Cryptocurrency Adds More Trust to Charities
The transparency factor is very important. With so many scams on the internet, a lot of people are wary about donating to a cause.
Thus, by accepting cryptocurrency donations, NGOs and other projects increase their level of trust and encourage more people to donate to their cause.
Here are some organisations you can donate to, using Bitcoin, Ether or other cryptocurrencies:
This is one of the most reputable charities in the world. Its mission is to offer relief to children in need and to help them thrive. The organisation runs various programmes across the world in impoverished and dangerous areas such as Africa, Asia, Latin America and Greater Middle East.
Save the Children accepts donations in Bitcoin and Bitcoin Cash via their BitPay page. However, the organisation makes it a little difficult for donors to find this page. The simplest way to do it is to type "Bitcoin" in the Search field on their homepage. The first query result is the page with different ways you can help, including more info on BitPay.
This organisation works as a global crowdsourcing platform for people who are unable to pay for life-saving medical services. Watsi allows donors to virtually meet the patients they will sponsor, learn their stories and follow a timeline of the case.
Finding the option to donate Bitcoin on Watsi's website is also tricky. You have to go to their FAQ page and scroll down until you reach the question: "Does Watsi accept Bitcoin donations?" The organisation shares their wallet address in the answer.
Humanity Road is committed to offering resources and means of communication to disaster-stricken areas around the globe. In the aftermath of an earthquake, hurricane or tsunami, most landline and mobile telephony services are unavailable. Together with confusion, lack of basic necessities and medical supplies, this leads to a greater number of victims.
The charity organisation uses modern technologies to connect emergency teams and various authorities to sources of relief. For example, they use a social listening platform to identify disaster areas and ensure quick access to means of communication for the population.
The organisation accepts cryptocurrency donations in Bitcoin, Bitcoin Cash, Ether and Litecoin. In order to reach the donation page, you have to click on "Get Involved" on the home page and Select "Donate Bitcoin" in the "Donate Now" section.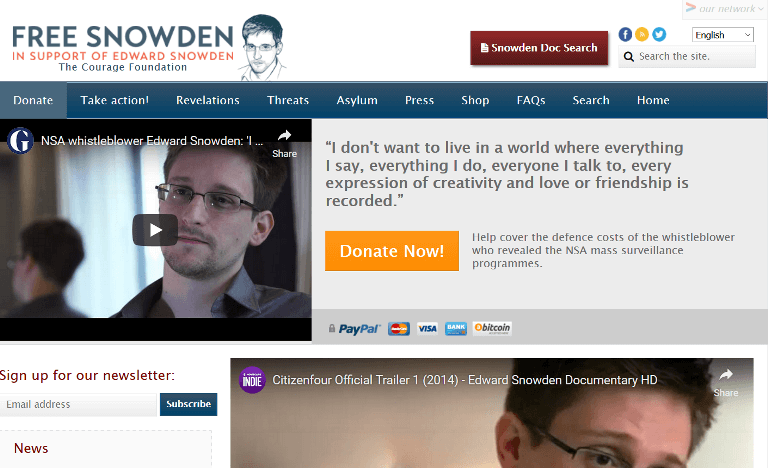 This organisation was founded to support whistleblower Edward Snowden. The former CIA employee leaked a series of classified documents back in 2013 and is now wanted by the US authorities to stand trial.
At the present time, Edward Snowden resides in Moscow, the Russian Federation, where he was granted temporary asylum. The Russian authorities recently announced that they extended Snowden's asylum until 2020. The Free Snowden organisation collects donations to fund the whistleblower's mounting legal expenses.
The organisation accepts cryptocurrency donations in Bitcoin and Zcash.
This organisation is the authorised partner of the International Red Cross. Its mission is to provide disaster relief, distribute blood bags in emergency situations as well as provide free first aid training in schools and other institutions.
The American Red Cross added Bitcoin to its list of accepted donations back in 2014. Same as Save the Children, they also have a special page on the BitPay cryptocurrency payment service. This service exempts any non-profit organisation from paying processing fees.
Unfortunately, The Australian Red Cross doesn't seem to be accepting cryptocurrency donations.
WikiLeaks is a Wikipedia-style website which publishes secret information, news leaks, and classified media provided by anonymous sources. Julian Assange is the founder, as well as until recently, editor-in-chief of WikiLeaks. The project survived several attempts by the US government to shut it down, and subsists solely on donations.
The project accepts cryptocurrencies such as Bitcoin, Litecoin, Ethereum, Monero and Zcash.
Khan Academy wants to help children succeed in life by providing free education. Its curriculum covers various topics of interest, such as maths, arts, computer programming and world history.
As a matter of fact, this online learning resource has grown into a global network, available in 26 languages. In order to continue its mission, it relies on donations.
At the present time, the organisation accepts Bitcoin, Bitcoin Cash, Ether and Litecoin. The Donate page has a FAQ section where you can find the wallet address for each accepted cryptocurrency.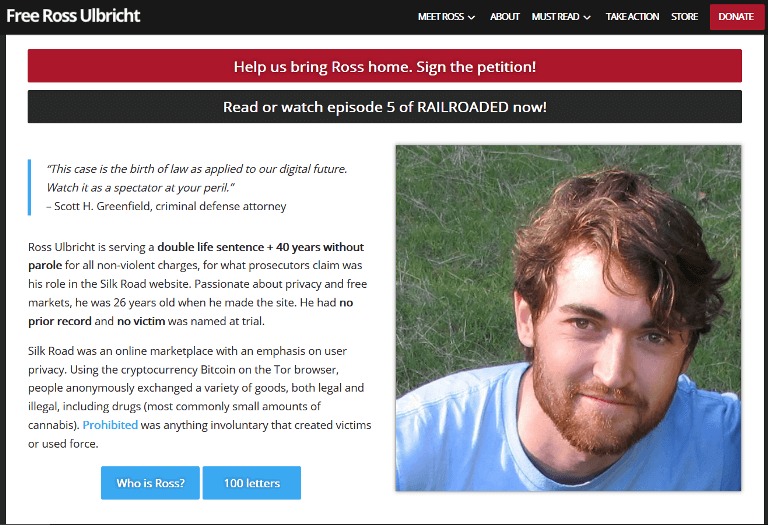 Ross Ulbricht is the creator of the Silk Road marketplace, one of the first places where people could use cryptocurrency to pay for goods and services. He was arrested and sentenced to two consecutive life sentences plus 40 years for money laundering, drug trafficking and operating the darknet marketplace. Nevertheless, Ross has many supporters who believe in his innocence.
They, along with friends and family, created the Free Ross organisation that aims to collect funds to overturn Ulbricht's sentence and militate for "sounding a warning about diminishing freedoms".
The organisation accepts a wide range of cryptocurrencies as donations, among which are: Bitcoin, Bitcoin Cash, Litecoin, Ethereum, Ripple and Monero.